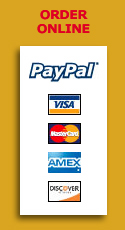 Documentary film: Now available on DVD...
| | |
| --- | --- |
| | Wild Heart Films and The Cedar Bennett Project, Inc., are pleased to announce the release of a new documentary short film about Cedar's life and times. The film is available on DVD through this website. Online ordering is now available, or you may contact us to order. |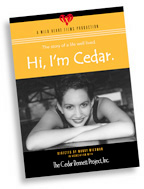 Hi, I'm Cedar is the story of Cedar Bennett Rosenfield, a beautiful and talented young artist whose life was tragically cut short at the age of 20. In her two decades of life, Cedar became a proficient writer, actress, dancer and visual artist.

Experience her art firsthand - and the far reaching effects of her life - in this remarkable documentary.

Included are clips from some of her films (All The World, In The Open, Sanderson County), her drawings, and an interview with Cedar herself. You'll gain insight into how one family created a unique emotional and educational environment that allowed their child's talent to blossom despite serious physical illness.


Wild Heart Films in association with The Cedar Bennett Project, Inc., present "Hi, I'm Cedar." Directed by Mandy Wildman. Produced by Mandy Wildman, Ed & Merry Rosenfield, Wayne Porter and Laura Sherman. Cinematography by Wayne Porter, Lawrence Squarini and Mandy Wildman. Music by Rick Hatfield and the Jumpin' Bobcats, Skinny McGee & His Mayhem Makers, and Cathy Dewitt & Patchwork.

G Rated | Color | Running time: 36 minutes | Price: $14.95